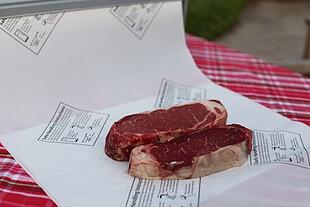 A basic aspect of keeping meat fresh is proper preservation. Butchers and deli owners are always looking for ways to keep their quality meat in pristine condition through all stages of handling from the time it is sold to the time customers store it in their freezer. To keep meat fresh, butchers often look to versions of traditional freezer paper to store their meat for a certain time period and prevent spoiling.
A recent development in mineral film has provided food service paper distributors with a new product for meat preservation. Wrapping meat with mineral freezer film preserves meat for long periods of time and offers a new sustainable standard in freezer wrap. At Oren International, we are excited to now offer mineral freezer film along with traditional freezer paper for the best options in meat preservation.
The new sustainable standard in freezer wrap
We're happy to introduce high performing, sustainably engineered freezer film to the food service paper industry. BPA-free and FDA Complaint mineral freezer film can be used to wrap and preserve meat longer at butcher shops, supermarkets and commercial meat processors. The value of mineral freezer film doesn't stop there. There are more wraps per roll of material compared to traditional wrap, the standard put-up is 18" X 2000'.
What is mineral freezer film?
Calcium carbonate and a proprietary blend of polymers create a brand new type of meat wrap that locks out more condensation than traditional freezer wrap, resisting freezer burn and increasing freezer shelf life for up to twelve months.
High performance benefits
Exceptional wet strength
Advanced oxygen barrier locks in flavor and preserves natural juices
Flexible form conforms to all shapes and sizes of meat cuts
Writeable surface for easy distinction
Heat sealable with superior pressure sensitive tape adhesion
Customizable with color printed logos, brand statements, etc.
BPA-Free
FDA Compliant
Oren International Freezer Film is three times better at locking freshness in and cold out than traditional freezer paper and is available in rolls 18" x 1000' and 18" x 2000'.
Do you want to learn more about mineral freezer film for preserving meat? Give us a call and our paper converting company will be glad to talk paper with you.