Camo Freezer Paper
Oren supplies camouflage printed freezer paper people in the food service industry including hunters, butchers and grocery store owners. Camo freezer paper offers a decorative way to protect and preserve meat and helps hunters distinguish meat from different excursions or seasons.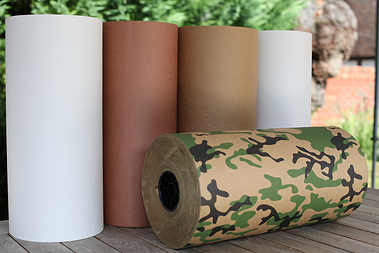 Freezer paper comes in different grades and sizes to fit your storage needs and can be written on to record the date and any other details identifying what's inside the package. Freezer paper preserves meat for all seasons and prevents against freezer burn or spoilage.
Find out what one of our customers has to say about our custom camo meat packing paper:
"

Camo freezer paper is a

really

unique offering. I haven't seen anything like it out in the marke

t

,

and

the

hunting motif fits in nicely

in our geographic region.

We have had an

increase in

requests lately for camo printed ite

m

s b

eca

use of the popularity of hunting in this area, as well as

sh

ows like

Duck Dynasty.

I can even see

the

camo freezer paper

being

used as a table covering for parties or for wrapping presents."

- Scott Brown, Merchants Paper Company, Pensacola, Fl
Find out Ways to Use Camo Freezer Paper:
Want to know more? You can contact us for a custom quote and to order camo freezer paper.