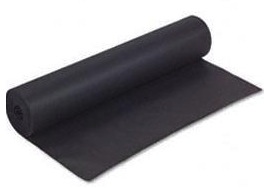 When you hear the words "kraft paper" there's probably a picture that comes to mind. For some people, it's a roll of thick brown paper that they wrap sandwiches in. For others, it's a packing material or even school projects.
But did you know there are many different types of kraft paper available? And each of them has its own set of unique applications in business. Here are a few types of kraft paper and how they might meet your business needs.
Virgin Natural Kraft Paper
Virgin natural kraft paper is the heavy lifter of the paper world. Its clean and durable fiber content and its low cost make it an ideal option for heavy-duty applications that require a high level of tear resistance. Plus, it's perfect for printing as well, so it's a natural for branded packaging and protective layering, wrapping, pallet interleaving, carrier sheets, and dunnage.
Natural Recycled Kraft Paper
Although not as strong and tear resistant as virgin natural kraft, natural recycled kraft paper is a more environmentally friendly option, and still carries enough strength to do an excellent job with dunnage and void fill applications, as liners for trays and boxes, interleavers, and bottom wrap for newspapers. Both virgin and recycled kraft paper come standard in weights from 30# to 70#.
Black Kraft Paper
The most common use of black kraft paper is as a dark, durable backing for pictures frames, but that's not its only use. Black kraft paper is also perfect for fun and interesting craft projects, or as an aid to unique decorating where light barriers and dark borders are needed.
Colored Kraft Paper
Colored kraft paper is available in just about every color of the rainbow. Its vibrant hues make it perfect for all manner of craft projects, as well as fun backings for bulletin boards, standard school supplies, scrapbooking, and similar applications. If your target market includes, schools, daycares, or busy parents, colored kraft paper should be on your list.
White or Bleached Kraft Paper
Similar to virgin natural kraft in strength and durability, white or bleached kraft paper makes an especially powerful impact when a crisp, clean appearance is desired. For example, many restaurants like to use white kraft paper as an attractive and economical alternative to linen tablecloths. It also serves well for wrapping and can stand up well to the standard wear and tear a package may receive.
Printed Kraft Paper
Many different industries take advantage of the versatility and value of custom printed kraft paper for creating branded wrapping, packaging, and in-store displays. For example, a deli may order a supply of kraft paper sheets in the perfect size for wrapping sandwiches, and have the deli logo and contact information printed on one side as a means of affordable, continual advertising. Many fashion manufacturers ship their garments out with printed kraft paper sleeves or sheets between individual articles, or wrapping the inside of a shoebox, again with branded logos and other information prominently displayed.
In all cases, the quality, versatility, and value of the various types of kraft paper can help you and your business improve the look and feel of your products, enhance your branding efforts, and improve your bottom line. For more information about what type of kraft paper is right for your business, our paper converting company is here to answer your questions.