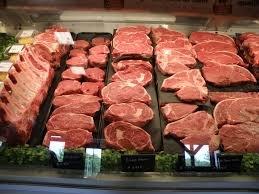 When it comes to food quality, flavor is always a final determining factor. But when the food is on display at a deli, butcher shop, or grocery store, your customers aren't able to simply try it for themselves.
So how are they going to choose the highest quality steak or chop in the display case? It all comes down to presentation.
The color of fresh
A fresh piece of steak or pork has a bright red or pink color that discerning buyers are looking for. Anything that takes away from the vibrant look of fresh meat can give the impression that the a certain cut of meat is not the best choice.
One way to bring out the color in every piece of meat in your display is to choose a complementary color of steak paper to place under it in the tray. Rather than letting every steak and chop sit on bland white Styrofoam or another boring alternative, help make it pop with green, pink, peach, or black steak paper.
Not only can quality steak paper be the perfect contrast for displaying your premium meats, it helps reduce blackening and spoilage, keeping your meat looking fresh longer.
Display case etiquette
Because you want to give your customers the best selection of fresh meats possible, it could result in packing your display case pretty tight.
In this situation, remember not to make the mistake of stuffing standard-sized freezer paper or steak paper into a cramped display case. This could mean losing the benefit of the paper, and wasting time, money and excess paper trying to make your presentation fit.
Instead, look for paper converting companies that can offer steak paper in custom sizes to match your display or tray requirements. You won't have to waste any time folding or fighting with it, and your fully packed display case will look neat and clean for the perusing customer.
When the juices flow
Fresh meat is juicy. There's no getting around it. After all, signs of freshness like this is one of the main things customers expect when they buy meat from you. But it doesn't look nice to have a huge juice stain or a dripping puddle surrounding your displayed meat.
Once again, quality steak paper can improve the display by keeping excess moisture in check. Specifically, it can reduce "blooming", the slow spread of absorbed juices into an unappealing purple halo that surrounds the cut of meat, and locks in moisture to prevent messy drips from forming.
If you'd like to learn more or take advantage of these and many other benefits that come from using the right food service paper for your grocery store or deli, contact us for more information.