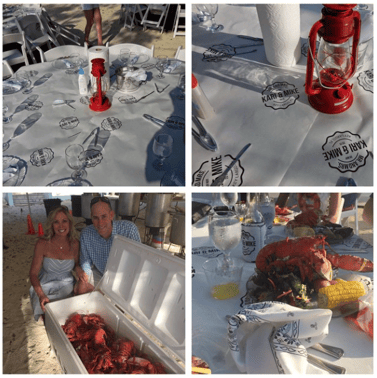 A lot goes into planning an event, big or small. From the guests to the food to the décor, event coordinators are tasked with ensuring it all goes off without a hitch. Whether it's a wedding, a corporate meeting, or a restaurant or retail store grand opening, the event planning industry usually has a long list of resources to employ to help bring it all together.
For some of the most fundamental aspects of an event, customized paper can take your event to the next level. Here are three ways personalized printed kraft and butcher paper can add al element of style to all types of events from weddings and intimate parties to corporate conferences.
Tabletop covers
Table covers are a staple at most events, serving the dual purpose of both dressing up and protecting tabletops from food, beverages, or other wear and tear. Rather than using expensive linens to cover tables, event planners often look to white butcher paper or natural kraft paper as an affordable and customizable table cover.
What can a paper tabletop cover look like? Take our recent paper project above for example. Created for a beach wedding rehearsal dinner, our paper converting company printed the couple's names in a custom design on white butcher paper to cover tables for a casual seaside lobster boil.
Food displays
Another great way paper is used for events is by wrapping and displaying food. Food safe butcher paper is perfect for lining trays, creating place mats, lining baskets or wrapping sandwiches. Event planners can create a clean, streamlined look with white butcher paper, or they can promote a logo, artwork or message with custom printed paper.
Weddings, events and business conferences are all ideal opportunities to use custom printed butcher paper to add a personalized touch to your tabletops.
Crafts and decorations
For event planners inspired by the popular rustic wedding trend, natural kraft paper can help carry out this theme throughout a room. Brown kraft paper is the best option for simple and on-trend decor that helps create the natural, rustic style which is popular at many events today. Kraft paper decor ideas include:
Wrap for flowers
Invitations
Personalized banners
Cards and envelopes
Menus or programs
Nametags
Printed tabletops
The options for using natural kraft paper as a decorating tool are endless, making it an affordable resource for enhancing weddings and events.
Planning a party or event? We have the right paper to fit your needs that can be printed and customized with any name, logo, words or image you like. Contact us to learn more about custom paper for events.