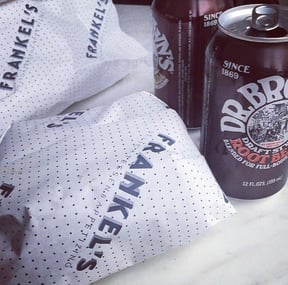 Chances are pretty good that your restaurant or deli has one - if not several - rolls of butcher paper in the kitchen or supply room. Depending on your menu selection, restaurant style, preparation and presentation, or delivery, you may use it a lot or only on occasion.
Regardless of its current role in your restaurant, we're willing to bet that there are several interesting and exciting ways you could be using that butcher paper roll that you haven't considered yet. Here are a few ideas to get your creative juices flowing:
Tear-off menus: Tear-off menus made with butcher paper or kraft paper are an intriguing idea that has really taken off in trendy restaurants in cities like New York and San Francisco. Why not take a page out of their book and implement your own paper tear off menu?
Daily specials: Using the same basic setup, but with a simple, blank roll of kraft paper or butcher paper as your canvas, you can offer guests a unique view of your daily chef's specials, Happy Hour appetizer deals, or any other menu items or special messages you want them to see.
To-go packages: Styrofoam boxes and other to-go options can be expensive and can sometimes clash with the overall look and feel of your restaurant.
Presentation and decoration: For some establishments such as butcher shops, delis, and BBQ restaurants, butcher paper is a recognized and expected part of the aesthetic.
No doubt, as you look around your own unique restaurant location and consider your setting, you'll be able to figure out where your go-to butcher paper roll can fit into your ongoing operations. If it's time to order a new roll, contact us or order pink butcher paper directly on Amazon. To read the full article, click here to learn more tips about reinventing your butcher paper roll.