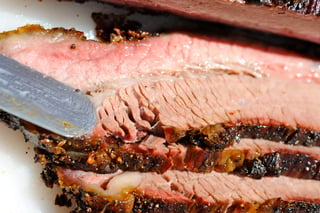 A perfectly smoked beef brisket is considered the "holy grail" of barbecue. If you can manage to nail it, you could graduate into the upper echelon of whatever level of pitmaster you're aspiring to be. But, it's not easy.
And, like many pursuits that combine bits of skill and art with a wholly subjective outcome, there are plenty of self-proclaimed experts out there who claim to know "the secret" to perfect brisket.
No doubt, many of them know what they're talking about. The world of BBQ is filled with passionate people who work hard to get it right. But, along the way, some information may make it into the collective carnivorous consciousness that may be off base. In fact, you could call these myths.
We recently hit this list of brisket myths in full debunking mode. See the full article dispelling each of these myths here.
Myth #1: Grilling and BBQ are the same thing.
Myth #2: Smoking a brisket with the fat cap on top guarantees a moister, more flavorful meat.
Myth #3: The smoke ring is the one and only sign of a perfect brisket.
Myth #4: Low and slow is the only way to go.
While there are plenty of other brisket myths out there in need of debunking, these will give you some food for thought. Find out what 4 barbecue experts have to say about smoking brisket in pink butcher paper in our free guide and click the button below to read the full article uncovering these common brisket myths.