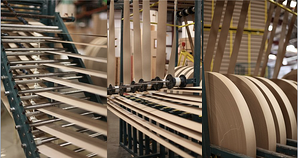 Both from a financial and an ecological perspective it makes sense for paper tube manufacturers to focus on improving performance wherever possible, reducing waste, and making the most of the resources available.
With the right tools and paper partner, tube and core paper can help to streamline production and improve efficiencies. Here are four ways our tube and core paper can help you in saving money and resources.

Consider Efficiency
When manufacturing tube and cores, value comes from seeking out higher yield alternative paper grades that offer more linear feet per pound of paper. Doing so will result in lower overall cost and a reduction in waste. In addition, an efficient converting process that involves minimal splicing will also allow for the maximum value out of each roll.
Be Precise
When a paper roll is slit inaccurately, even by a tiny fraction of an inch, it can result in wasted paper, time, and money. When the tube or core includes a printed image, logo, or other message, precision is a must to ensure the image is correctly reproduced.
While part of the responsibility for slit precision lies in providing accurate measurements, it's the paper converter that does the heavy lifting in this area, so be sure to choose a reputable paper converting company experienced in tube and core production.
Streamline Your Product
While it's important to test options and determine the very best quality paper you can obtain at the right price, there's also waste reduction value in settling on a paper type and keeping it consistent. When the paper being used for tube and core production is consistent in qualities like water holdout, smoothness, finish, and moisture, it becomes easier for the tube & core manufacturer to increase efficiencies due to familiarity and repetition.
Repurpose Waste
Of course, there's no way to eliminate 100% of waste from the tube and core manufacturing process. Though, having an effective recycling plan in place is an essential piece of the waste reduction puzzle, and can have a tremendous long-term effect on both costs and ecological impact.
These tips are are great first steps to implement in partnership with your tube & core manufacturing company. For more information, download our free guide on this topic and contact our paper converting company with any questions.