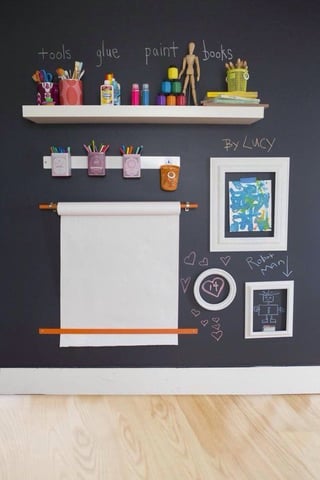 As professional paper converters for the last 20 years, we've seen the paper industry change and grow. This has given us the ability to discover more effective and creative uses for the paper we convert. That's why we think just about everyone can benefit from having a roll of butcher paper on hand at all times.
In fact, we think it's right up there with duct tape and WD-40 as a staple product, and it's a necessary supply for any commercial food service location as well.
Ready to find out why? Here are 6 specific occasions where having butcher paper on hand could save the day:
1. When you're barbecuing
Whether you're a professional pitmaster serving up the best Texas BBQ this side of the Mississippi, or just an amateur backyard BBQ aficionado seeking out the perfect brisket recipe, you will find that butcher paper, specifically pink butcher paper, is an indispensable tool of the trade.
Pitmasters across the country use pink butcher paper routinely to wrap meat in the smoker, sealing in moisture and flavor while maintaining a crisp bark and keeping the rub in tact.
Check out our interview with four BBQ experts about the role pink butcher paper plays in their recipes and careers.
2. When you're decorating for an event
Take a wedding, for example. Classy, chic, dignified: that's what most people are looking for when designing their wedding decor. Accomplishing that, especially on a tight budget, can be challenging.
With butcher paper, it's possible to create beautiful table runners, place mats, menus, name cards, and decorative banners for a very reasonable price.
3. When you're entertaining young children
Babysitting young kids or teaching students can be a blast, as long as there are plenty of things to do to keep them engaged and entertained. When the usual toys and lessons have been played out, what do you need?
A roll of butcher paper is your new superpower: unroll several feet of it and tape down several rows on the floor. Then, hand out the crayons and let the kids go wild drawing and writing all over the new floor! Or, hang it up on the wall and use it for free drawing, shadow silhouettes, or a dozen other games and crafts.
For teachers, a white butcher paper roll is both inexpensive and versatile. You can set up everyone's tables or desks in a long row and roll out one continuous sheet that the whole class can draw on. It serves as a great backdrop on the bulletin board, too. Or, as an easy-to-use drop cloth to protect the floor or desks during messier projects.
4. When you're responsible for event photography
Whether it's a wedding reception, graduation party, prom after-party, or any other event where people are looking their best and want to remember the occasion, a photo backdrop makes a fantastic investment.
Using butcher paper, you can set up a simple, elegant photo backdrop that matches the event decor without over-spending. Just create a simple frame large enough to fill the scene behind one or two people in a well-lighted spot and set up your camera for quick, clear shots as people pose.
5. When your restaurant menu changes routinely
If you're running an independent bistro or cafe' with an eclectic menu, or a 5-star restaurant with a resident chef that wants to flex those creative culinary muscles, you may find that investing in formal, printed menus doesn't always make sense.
A fun, attention-grabbing alternative that saves restaurants money is a large roll of butcher paper mounted on a visible spot on the wall where you lists out the day's available menu items. At the end of the day, just pull the sheet down, tear off today's menu, and get started on the next day!
6. When you're wrapping meat
Of course, we can't leave out the most well-known use for butcher paper: wrapping and storing meat.
In those circumstances where you need to keep a cut of meat fresh and flavorful in the short term, or just need it wrapped to bring home from the butcher shop or deli, butcher paper is the obvious first choice. Nothing else performs as well as FDA approved butcher paper for protecting meat.
This list just scratches the surface of potential uses for butcher paper. For more tips, download our free guide below, Beyond Food: Creative and Thrifty Ways to Use Butcher Paper and Kraft Paper.
Image by: apartmenttherapy.com