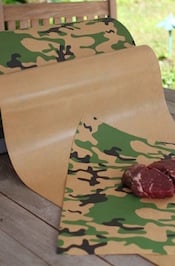 We hate to see it happen, but it comes around every year: the end of the major hunting season. Hopefully, if you're a hunter (or you have a hunter in the family) it's been a productive season. If so, you should have a stockpile of meat to enjoy in the upcoming months.
Before you put it in some standard Zip-Lock bags and toss it in the freezer, give some thought to how to best protect your hard-won game and preserve its freshness as long as possible. Hopefully you will have enough supply until next hunting season rolls around!


Why freezer paper is your ally
Freezer paper is the perfect combination of form and function for preserving cuts of meat. With poly-coating on one side to create a moisture barrier, blood and juices are kept in while keeping the dry frozen air of your freezer is kept out. This coating provides protection from freezer burn: the bane of hunters everywhere.
For different packaging needs, freezer paper is available in three different grades to accommodate whatever storage requirements you have:
Economy - providing a shelf life of 3-6 months
Standard - providing a shelf life of 6-9 months
Premium - providing a shelf life of 9-12 months
It is also available in 15", 18", or 24" width rolls, and can be purchased in either 1000 foot commercial lengths or 130 foot consumer length rolls.
Finally, freezer paper provides more versatility for documentation. You can write on the non-coated side of the meat packing paper to label your game so you know what you have in the freezer. Also, it is available in a unique camo freezer paper design for die hard hunters!
If you've had a productive hunting season, make sure your game stays fresh and delicious right into next season with quality freezer paper.