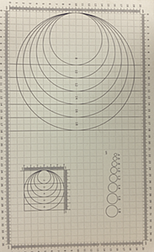 The manufacturing of paper is traditionally dated back to 105 AD when a Chinese courtier began to use soaked hemp fibers for the first papermaking process in recorded history. In the mid 1800s, the use of wood fibers for making paper was invented and since then, the world of paper manufacturing has never been more innovative. The sky is the limit when it comes to custom paper products. Here are just a few examples of how influential paper has become:
Makes Entrepreneurial Visions a Reality. A group of medical entrepreneurs approached us with a project that would save hospitals around the world time and money. The idea was to create disposable surgical cutting boards to be used in operating rooms. Before this, surgical boards had to be painstakingly cleaned, sanitized, radiated and stored according to strict sanitary protocols. Our team created a disposable board that met all necessary requirements including a strong matte finish and a slip-resistant grip to improve efficiency because it eliminated the entire maintenance process.

Improves Marketing Resources for Restaurants. A Houston-based restaurant group wanted to create a menu that complimented the rustic, foodie ambiance of their restaurants while showcasing different craft beers and microbrews native to each location. Menus for each of the 16 locations had to be customized to reflect different pricing and selections. We came up with the solution of printing the menus on rolls of Kraft paper that could be torn off by each server. The cost for printing 16 variations of the menus was reduced dramatically and created a unique experience for diners.

Helps Ad Agencies Meet Deadlines. A New York ad agency needed help with creating custom sheeted butcher paper to promote the new season of the popular Discovery Channel show The Deadliest Catch. With the deadline quickly approaching, our team at Oren designed the layout, packaging options and set up direct distribution to 6 different fish markets with multiple locations in just 6 weeks. The paper reached 150,000 customers and viewers and helped launch the new season of The Deadliest Catch with a higher viewership that the previous season.
To read more about custom paper products and how the team at Oren can help you, visit our case studies page.