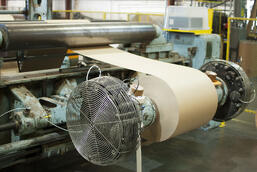 Knowing what processes and technologies are available today can help you to explore the boundless possibilities available with paper. Paper converting companies offer a range of custom paper solutions. What is paper converting? How can it be beneficial to your business?
How Does Paper Converting Work?
Simply put, a paper converter takes one form of paper and fabricates it into another paper product. For example, a large roll of kraft paper could be printed, coated and sheeted into custom-specified sandwich wrappers for a restaurant.
What Are Common Paper Converting Processes?
Roll Slitting. Rolls of paper start off in wide master rolls. If you want a narrower roll, such as a roll for custom kraft paper table covers, a paper converter cuts it precisely to your desired width.
Sheeting. A sheeter takes a roll of paper and converts it into sheets of paper. Think about what size of custom paper sheets could be helpful to you and it can be produced to your exact specifications.
Flexographic Printing. This method of printing is often used to print disposable cups and containers, envelopes, candy and food wrappers, paper sacks, corrugated containers, and folding cartons. But those aren't its limitations. Customers looking for creative paper solutions often find that flexo printing is an integral part of their custom projects.
Coating. Paper coating takes an ordinary paper product and turns it into something with a special purpose or application. You may need coating to create tags and labels, specialty tapes, or water or grease impermeable papers for the food industry.
Laminating. Laminating takes an ordinary paper and turns it into something special. You may need paper laminating if you want metalized paper for decorative packaging, gift wraps, or point-of-purchase displays.
How Can Paper Converting Help You?
A paper converter can turn a simple roll of paper into countless different end products. What is it that your company needs? What would make your life easier? We can help you to develop custom paper solutions to meet your needs and grow your business.
For more information about paper converting, or to speak with one of our knowledgeable team about your custom paper project, contact us at Oren International. We look forward to working with you.