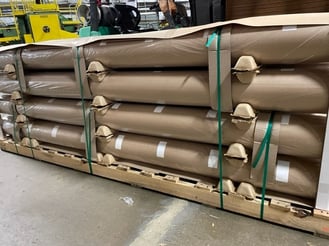 Dye-sublimation printing (or dye-sub printing) is a term that covers several distinct digital printing techniques that involve using heat to transfer dye onto a substrate.
The sublimation name was first applied because the dye makes the transition between the solid and gas states with only slight liquefication before adhering to the substrate. An integral part of the process is the tissue paper that prevents that dye gas from damaging the heat press belts, and heated rotary drum calendars.
Sublimation transfer printing is a digital technology using full-color artwork that works with polyester and polymer-coated substrates. Originally used for printing polyester fabrics, the process is now commonly also used for decorating apparel, signs, and banners, as well as novelty items such as cell phone covers, plaques, coffee mugs, mouse mats, and other items with sublimation-friendly surfaces. The images are first printed onto coated heat-resistant transfer paper as a mirror-image of the final design, which is then transferred from the transfer sheet onto the substrate using a heat press. In order to transfer the image from the paper to the substrate, it requires a heat press machine process that is a combination of time, temperature, and pressure. Different settings are used depending on the substrate. This application will transfer the sublimation dyes at the molecular level into the substrate.
Oren's Dye-Sublimation Tissue Paper is used for blanket protection of rotary heat presses. Our tissue paper is capable of withstanding heavy ink applications and safeguarding against ghosting, producing high-quality print results, and prolonging the life of heat press belts and rotary calendars. We offer roll widths up to 130", the widest on the market. The advantages of our superior sublimation tissue include:
Brighter Colors
Uses Less Dye
More Consistency
Lower Basis Weight
Highest Gas Barrier
High Tensile Strength
Recyclable
Longer Roll Lengths Available
Custom With Available
Contact us for all for your Dye Sublimation Tissue needs info@oren-intl.com