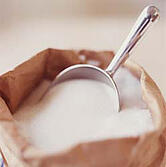 Until the Civil War, sugar and many other household staples were packaged and sold in cotton bags. During the war, however, cotton became scarce as Southern men abandoned their cotton fields for battlefields. Paper replaced cotton as the food service packaging of choice, and today we still package sugar in paper bags.
Plastic has been seen in recent years as well. About five years ago, bottom-gusseted stand-up pouches with resealable zippers were introduced as packaging for sugar. While this type of packaging does have some advantages, it significantly adds to the cost of the product.
Here are five reasons that natural kraft paper is still the best choice for sugar packaging.
Cost
The cost of packaging adds to the final cost of any product, which ultimately affects how your product will compete with the rest of the market. Natural kraft paper is less expensive than plastic packaging. It also weighs less than packaging products that include features like zip closures. The weight of the packaging determines the cost of shipping, which also affects the final consumer price.
Strength
Natural kraft paper is durable both in the production process and in its life as sugar packaging. Both are important. Kraft paper is durable enough to withstand elaborate printing in modern, high-tech machinery. This means you have endless options when it comes to designing your packaging's printing. It also holds up to shipping and shelf life very well.
Environmental Impact
Both paper and plastic are easily recyclable, but paper has an environmental edge because it also quickly decomposes if it's thrown away instead of recycled. Therefore, you don't have to depend on the consumer to make a good environmental choice; kraft paper is environmentally low-impact whether it's recycled or sent to a landfill.
Freshness
Dry commodities like flour and sugar need to "breathe" to stay fresh. At the same time, they also need to remain hygienically safe. Kraft paper does both, keeping your product as fresh in your customers' homes as it was when it left you.
Natural Packaging
In today's natural food market, packaging is extremely important. Consumers concerned about environmental estrogens in plastic tend to steer clear of plastic packaging. Your product can stand out as the sugar of choice for natural consumers.
To learn more about natural kraft paper packaging for sugar, contact us. We at Oren, a paper converting company, will work with you to create paper solutions for anything you need, from packaging to custom kraft paper orders.