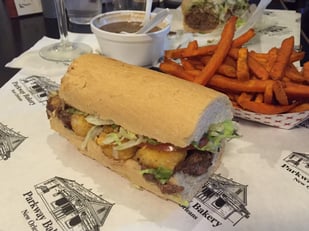 Printing your restaurant's logo on sandwich wrap is a great marketing strategy. People walk out of your sandwich shop and enjoy their lunch in a public area, or inside their office. Everywhere they go, hungry people will see your logo on that delicious sandwich. But food service packaging has to do more than advertise. It also has to keep your food fresh, sanitary, and ready-to-eat.
Not every food service packaging option works for every food item. Before you settle on a sandwich wrapper, think carefully about how it will work with your particular products. Do you need your sandwich wrappers to showcase your branding? Do you need different types of wrappers for different types of sandwiches you offer? Answering these questions will help you decide what your true
food service packaging
needs are.
Below are the two major categories of sandwich wrapping. Of course, there are options within each category, such as weight and color of paper. But learning about each main type will help you decide what you need.
Poly or Wax Freezer Paper.
Poly or wax freezer paper is ideal for wrapping wet or greasy items because they keep moisture in and contain the potential mess. Hamburgers, french fries, chips, fried foods and food with sauces or dressings that would soak through un-coated paper should be wrapped in poly or wax freezer paper. These papers come in different thicknesses, so you can customize the weight of the paper to the size of each food item on your menu as well as add custom print.
Butcher Paper.
Traditional butcher paper works well for wrapping dry foods like turkey sandwiches. They allow the food to breathe while keeping it fresh and contained. The benefit of using butcher paper is that it's less expensive the poly or wax freezer paper, and it's printable. You can print whatever you want on it, so it can be a great marketing tool.
Contact us
today to find out more about sandwich wrappers and how we can customize them to help your business. Whichever type of
food service packaging
you choose, we're here to help you get what you need. We work with each company on an individual basis, so we can discuss your needs and help build a one-of-a-kind solution for you.