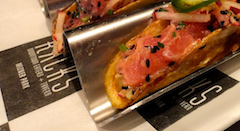 Kraft paper is an important ingredient being used by many restaurants today. Its diversity, efficiency, custom ability and affordability make it a recipe for success for many eating establishments.
Here are 5 types of kraft paper and how they are being used by restaurants:
Butcher
Butcher paper is no longer just for food service packaging. The inexpensive and sturdy paper comes in ready-to-use rolls and sheets. Its resistance to blood, oil and stains makes it a perfect pairing for food service. Butcher paper is most commonly used in restaurants as a sandwich wrapper, food tray liner and as a disposable tabletop.
However, some restaurants in central Texas are using it to wrap barbecue (instead of the traditional aluminum foil) and are getting excellent results. It's much cheaper than foil and can have a positive impact on the barbecue's bark, or flavorful meat crust. Custom printing of butcher paper also keeps your company logo, tagline or website fresh on the customer's mind while they're digging in to your delicious food.
Freezer
Freezer paper is the most economical way to store meats, fish and poultry in the freezer for extended periods of time. The paper conforms to the shape of the food being wrapped and the coating traps moisture in to prevent freezer burn and keep food fresh.
Freezer paper is often used in delis, restaurants and grocery stores as a quick-serve sheet to wrap sandwiches, deli meats and cheeses. Custom printing is also available on freezer paper.
Steak
Colorful steak paper helps meat, poultry and seafood stand out on display in grocery, butcher or deli display cases. The specially treated papers control excess meat juice and inhibit blackening and spoilage.
Natural Kraft
Restaurants are embracing natural kraft paper for its rustic look and eco-friendly appeal. It makes for easy clean up in disposable tabletops, customizable doggy bags and unique tear-off menus that offer affordability for establishments that change menus frequently.
White or Bleached Kraft Paper
White or bleached kraft paper is just like natural kraft, but provides a pristine, crisp, clean look for table tops, bags, and other similar uses of natural kraft paper.
Looking for more inspiration? Download our free e-book with creative ideas for using paper to boost your restaurant's bottom line.