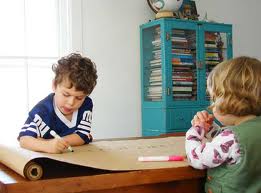 'Tis the season for paper! From wrapping gifts to shipping packages, paper is the essential holiday helper. Kraft paper is easily customized for any holiday from Christmas to Hanukkah and is a must-have for getting all of those presents wrapped and shipped with a personal touch.
Personalize It
Kraft paper is perfect for putting a personal stamp on holiday gifts. Its low cost and clean fiber content make it ideal for printed packaging. Whether it's a company logo or a family photo, custom paper can provide an inexpensive extra touch.
Make it a family affair by having your children design their own wrapping paper for the holidays. Buy a large roll of white or natural kraft paper and spread out at least five feet on the floor or on a large table. Tape the loose end down to prevent tearing and use a heavy object to keep the end attached to the roll in place. Let the kids loose with colorful markers, crayons or even fingerpaint. If you have younger children, draw a simple, guiding design to fill the entire space and have them color it in. A fun activity provides wrapping paper that will make your gift even more special to everyone on your list.
Prefer a more upscale design to kids' art? Embellish natural or bleached kraft paper using rubber or sponge decorative stamps with a stamp pad or paint from a shallow tray. Keep stamped designs evenly spaced, and be sure to allow paint to dry thoroughly before using the paper to wrap a gift.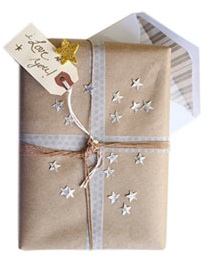 Wrap It
Why spend money on expensive wrapping paper, ribbons and tags when they will just end up in the trash on Christmas Day? Instead, invest in an inexpensive roll of natural or white kraft paper as your blank canvas to get creative. The possibilities are endless when it comes to creatively wrapping gifts with kraft paper. Just do a search on Pinterest and you'll see what we mean.
Using real live leaves and flowers and painted pine cones creates a simple, yet earthy aesthetic. Doilies, bakers twine, yarn and ribbon can all pack a colorful punch. Silver bells, snowflake ornaments and sequins add a festive flair. We love using an embellishment like incense that not only makes the gift look special but becomes part of the gift, too.
Ship It
Now that you've got your packages decorated and wrapped, it's time to ship. Using kraft paper as packing material as opposed to Styrofoam peanuts is a better economic and environmental choice. Styrofoam takes hundreds of years to break down, emits toxic chemicals and most recycling centers won't even accept it. Kraft paper is not harmful, is naturally biodegradable and can be recycled.
Paper is infinitely customizable for your packing needs. No matter the size of the package, large or small, kraft paper can be cut to any size. Have a peculiarly shaped object? Paper can be easily molded to fit any shape or package size and is more compact than Styrofoam peanuts.
If you could use some holiday help with a paper project, contact us. Whether it's adding kraft paper to your product mix or coming up with a one-of-a-kind branded solution, we can be your hard-working elves this holiday season!