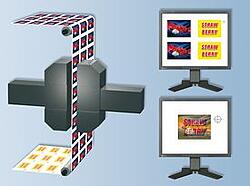 Flexographic printing has come a long way in the past 20 years. There have been advances in presses, printing plates and printing inks. More companies are relying on a fleet of flexo, the modern version of letterpress, to print on almost any type of substance, including plastic, foil, film, brown paper and other materials used in packaging.
Flexographic inks generally have a low viscosity, which means faster drying and therefore faster production and lower costs. There's no question Flexo is good, but paper converter Oren International is turning to video to make it even better.

We are now using a video inspection system called the Super Handy Scan 4000, which allows better quality control of our print projects. The PC-based system with high-resolution digital cameras allows closer monitoring of each print job, right as it is happening. The technology provides automatic print inspection, color monitoring and correction. This increases our productivity while saving time and money on each job because there's less waste.

With the help of this on-press inspection system, our customers can be confident in the quality assurance of each print job. The ease of setup has cut startup times down, while increased average running speeds allow for deadlines being met sooner.

We are always improving your paper converting experience through new technologies and innovations. Oren is proud to be able to pass along the savings on to our customers, who also get the benefit of high quality printed products.

Learn more about our flexo printing service and paper converting and how we can use our innovative equipment and expertise for your printing needs.