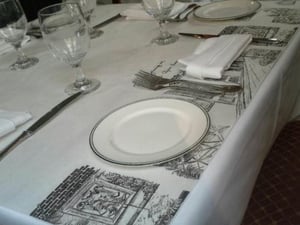 A glass of Merlot and a Porterhouse Steak make the perfect pair. But if red wine and spills are creating a linen nightmare for your restaurant, consider topping your cloths with tabletop paper. You'll save lots of money on cleaning costs, plus customized tabletop covers can improve your dining room's look and feel for diners.
White, natural or even custom branded butcher paper can help preserve tables and linens longer. Paper tabletop covers come in both rolls and sheets, but using pre-cut covers can provide a more upscale look since they can be cut to the exact size of your table. Don't worry about overhang on odd shaped tables. A custom cut cover can be made for a table for two or twenty. You'll save even more money with pre-cut covers, since tearing sheets from rolls can result in more waste. Add your custom print design for that touch of class.
Specializing in paper materials, Oren International's slitting and sheeting services offer high-speed, large format capabilities (up to 60" x 72") and extensive slitting capacities, thanks to our dual knife precision sheeter. We are capable of sheeting lightweight papers and heavy board grades.
Learn more about Oren's slitting and sheeting services and how we can use our state of the art equipment and expertise to create custom paper products for your tables with five star results.