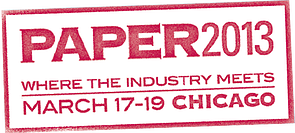 Paper converter Oren International is rolling into the Windy City for Paper2013. Our leaders will engage in sessions about the latest paper industry news while they network with other executives. Plus, they'll get their fill of Chicago-style deep dish pizza and hot dogs!
Paper2013 is hosted by the American Forest & Paper Association and the NPTA Alliance and will be held March 17-19 in Chicago, Illinois. The three-day annual conference will feature a paper industry CEO panel and seminars on global paper trends and forecasts, as well as new economic opportunities for paper companies.
Organizers describe Paperweek as an opportunity to establish or strengthen relationships, address supply chain issues and generate ideas for meeting end-users needs while improving profitability. Oren executives know this event is not to be missed and are looking forward to the face-to-face network and education opportunities.
Are you attending Paper2013? Contact Alan and Mark via their LinkedIn profiles to get in touch and connect at the conference.
Alan NeSmith, President at Oren International
Mark Jones, Sales & Marketing Coordinator at Oren International