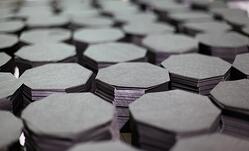 We always enjoy being challenged to come up with new ways of doing things to make our clients' businesses better. In fact, custom paper converting projects are our specialty. We love getting the opportunity to develop alternatives for a traditional product and create something new.
Recently, we were challenged by one of the biggest grocery chains in the South to come up with a unique presentation for their gourmet hamburger patties. Typically, the only patty paper available in the market is round or square wax paper. It's lightweight and pretty generic looking.
We wanted to take that idea to a new level and create something one-of-a kind. After testing a few different ideas, colors and shapes, the final product was an octagon shaped black steak paper. Not only is the octagon shape unique, and a blend of the round and square shapes currently on the market, but the high quality black steak paper we used really lent an edge of sophistication that made the top grade burgers stand out as the best
Currently 370 stores are featuring the custom black steak papers to distinguish the meat in their burger displays. We are really proud of the work our team put into creating something original that shows our versatility and custom paper converting capabilities.
Many people think that paper converting is just about slitting and sheeting. But custom paper converting projects are our passion. Have a big idea? Drop us a line. We know we can make it take shape.