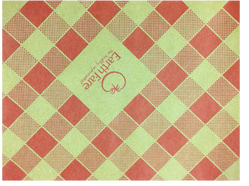 Natural and organic foods, which were once sequestered in small health food stores, now play a prominent role in most of the mainstream grocery stores in the U.S. With the total revenue for organic foods surpassing $30 billion in 2012, it's no surprise that most major grocery stores are dedicating valuable real estate to this market.
A "greener" presentation
Brown, natural and unbleached paper provides a more natural-looking packaging and presentation to distinguish natural and organic foods. Major grocery chains such as HEB, Earth Fare, Whole Foods and Fresh Market are using
natural freezer paper
for meat displays and food and sandwich wrapping. It offers a more rustic look and the brown color offers the appearance of being more "green" than traditional bleached white paper.
Diverse storage capabilities
Natural brown freezer paper comes in a range of grades to meet different storage needs. Lightweight grades are used for meat and sandwich wrap, while the heaviest grades can preserve meat in the freezer up to a year.
Benefits of natural freezer paper:
A few more reasons that natural freezer paper is finding their way into grocers include:
FDA-Approved for direct food contact
100% chlorine-free, unbleached natural brown kraft paper
Polyethylene coated to resist freezer burn by locking moisture out
Contains approximately 87% compostable fiber by weight
At Oren International, a
paper converting company
, we use the highest quality
natural freezer paper
and can an even print logos or other branded images, up to three colors, for a more custom, rustic look and meat/food presentation.