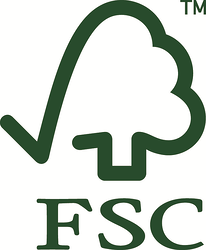 Many companies today want to be sure their customers know where their paper rolls come from. More businesses are looking for paper made of pulp that comes from a forest certified by the Forest Stewardship Council. The FSC ensures that forests are managed with the highest environmental standards.
Paper converting technology
Today, technology has made it easier than ever to track the source of the trees used to create kraft paper, industrial and food service paper. We used to print labels that were placed on each roll for identification and also served as an edge sealer, taping down the edge of paper rolls. Printing labels added to the paper converting production cost and created additional waste.
Now, we've put an innovative inkjet system in place that stamps each roll with the paper grade, an individual bar code and manufacturing codes, which are ideal for reading and scanning inventory.
Paper Sourcing
Just as coffee beans and other farm products now can be traced from their growers, paper can be traced from its source, ensuring that the paper purchased originated with sustainable forestry practices.
The FSC reports that forests cover 30 percent of the earth's land area while 70 percent of the planet's plants and animals call forests home. Preserving forests and making sure trees are harvested in an environmentally safe manner is critical to a healthy environment.
Show your customers that you take this seriously enough to stamp an origins identification label on your paper roll. Here at Oren International, we care about the products we produce and how they are sourced. Paper converting is more than what we do, it's who we are. Talk to us today.