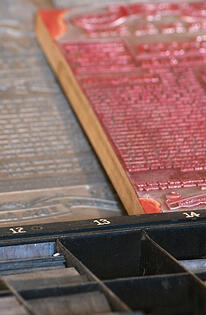 Flexographic printing is the 21st century version of the letterpress. What is flexographic printing? In short, it's a printing process that uses a flexible relief plate (hence the "flexo" in flexographic).
This type of printing is great for packaging and publication printing because it works so well with a large assortment of fast-drying inks and substrates. Companies needing paper shopping bags, self-adhesive labels, milk cartons, disposable cups, giftwrap, and even wallpaper all utilize modern flexo printing capabilities to take advantage of its versatility.
Here are several ways that Flexographic Printing is time and cost efficient:
Flexo is faster than other types of printing processes.
Press set up is shorter than for lithographic or gravure printing.
Flexographic printing works well for high-production and high-speed printing jobs, resulting in considerable cost savings compared to lithographic/gravure printing.
The flexographic printing process uses fast-drying, low-viscosity inks.
For those times when water-based inks are used, clean up takes less time, saving money and preventing waste.
Finishing stations such as die-cutting and laminating can be incorporated down the press line, making the printing/finishing production process unbroken and cost-efficient.
Flexographic Printing is Easy on the Environment
The printing industry in general can be unforgiving on the environment because of the plate-making solutions, solvent- and water-based inks, and even cleaning materials used in many printing processes. But flexographic printing lets us use solvent-free inks on a large variety of substances, which results in reduced volatile organic chemical (VOC) emissions.
If you're wondering if flexographic printing will meet your needs, contact us today to learn more about this cost- and planet-saving printing process.