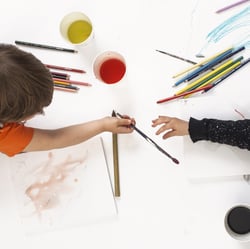 Emerging out of its stereotypical role as picture frame liner and stepping into the spotlight as so much more, we present to you, the amazing uses of Colored Kraft Paper
Like other paper, kraft paper is smooth and relatively lightweight. However, thanks to its wide variety of vibrant colors, it has the potential to look more dramatic, sophisticated, formal or even edgy, and lends itself to some creative and practical uses.
Its increasing popularity has been seen throughout schools across the nation, and it has recently become a staple on supply shopping lists. Here are some ways in which we've seen rolls of colored kraft paper open up a world of possibilities for schools.
Papier-Mache' Floor- With a little bit (ok, a lot) of Elmer's Glue, polyurethane and kraft paper, schools can create modern, attractive, durable spaces for art and music areas, reading nooks, or entire classrooms! Get creative and throw in other paper items like sheet music or book pages, and now you've got a work of art, all for next to nothing.
Cupboard doors - Trade in old, sterile storage cupboards for those that are fun, educational and visually appealing! Simply line cupboard panels with colored kraft paper, then teachers or students use chalk markers to draw illustrations, labels, quotes, equations on the doors.
Murals and Decorations- Use bright glow-in-the-dark paint on black kraft paper to create contrasting, dramatic wall art. Decorate classroom seasonally; imagine a spooky Halloween party with black kraft paper cutout trees decorated with black creature silhouettes!
Backdrops-Set the stage with black kraft paper as your backdrop; especially effective for creating a starry night in the middle of the school day
Eco-friendly class project/Mother's Day gifts-Wrap small potted plants with natural kraft paper and secure with twine.
Light barriers- For movie watching or nap time, cover up windows for optimal darkness.
Table Runners/table Cloths– Roll out onto tables to create a runner or tablecloth. Decorate with chalk pens. Perfect for class parties or graduation night décor.
Placemats- Especially good for those antsy wee-ones at snack or lunchtime. Cut placemats out of colored kraft paper and place a cup of chalk or chalk pens at each spot. Let the kids do the rest!
Posters- For this school project, teach your kids to think outside the box by trading in the traditional white poster board for colored kraft paper.
Floor & Table Drawings- Roll out the white kraft paper, give the kids (or adults!) some chalk pens, chalk, or paint, and let their imagination run wild. This may be the simplest of all ideas, but definitely a kid (and big kid) favorite.
Do you have interesting and original ways in which you use colored kraft paper in your school, the workplace or at home? We would love to hear about it.
We stock 24", 36", and 48" by 200 ft. rolls of colored kraft paper, white kraft paper, and natural kraft paper specifically for schools and individuals to use for arts and crafts projects on our Amazon store. If you need anything, let us know!!