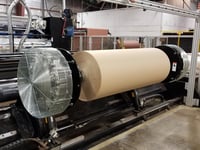 Quality, price, lead times and capabilities are top reasons for choosing the correct contract converter for your products/needs. Does your current converter have all the characteristics and capabilities you require, such as custom work from 135 inches to 1 inch? From sheeting, and slitting to polycoating and custom print work? Know what you need before jumping in. Use this checklist to make the best decision. Your paper converting company should:
Be able to physically handle the stilling/sheeting you need.
Perhaps most importantly, choose a company that can handle everything you need all in one place. At Oren International, we have a wide variety of slitting capabilities. (135" down to 1" wide, 72" OD's down to 3" OD's). We also have multiple sheeting options as well as guillotine work. We are able print, slit and rewind an extremely wide variety of papers (from 15# Bleached MG through .050 Chipboard. We are able to sheet many different substrates as well (from 30# Newsprint thru .045 Chipboard).
Offer Custom Printing.
How well does your prospective contract paper converter help bring your vision to life? Are they capable of printing all colors you need? At Oren International we can print directly on your paper with our state of the art flexographic printing press. We are able to print up to 4 colors (2 colors front & back is possible). We can handle up to 73 inch wide rolls, on a variety of cores.
Have the Right Packaging to Suit Your Needs.
Oren International offers a full packaging line for your finished products. Including roll wrap with headers, shrink wrapping small OD rolls and custom cut bundles, as well as custom labeling of individual rolls/bundles/boxes.
Have a good reputation in the market place for quality and service.
Be sure the company you choose will do all the work in house? Can they offer you the lead times that you need? Our extended experience in the paper industry, and converting business allows us to provide high-quality services and competitive pricing. When you work with Oren, you experience friendly, personal service and all the facts and best options for your project. We strive to make everything as effortless as possible on your end, and proudly develop lasting relationships with our customers.
What other tips do you suggest when looking for a paper converting company? We would love to hear from you.