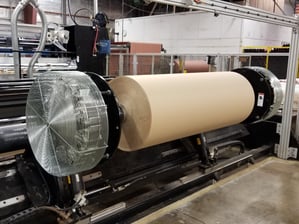 Quality, price, lead-times and capabilities are the top reasons for choosing a paper converting company for your products/needs. Oren International has has more capabilities under one roof than most convertors. This allows us to supply almost every paper product needed for your success. Our wide variety of converting equipment allows us to meet all of your needs. From printing, sheeting, and slitting to poly coating as well as finished items such as tubes/cores and SOM Bags. Here is a look at what we can do for you:
We have multiple slitter/rewinders to handle any job.
At Oren International, we have a wide variety of slitting capabilities. We can handle rolls from 135" down to 7/8" wide. Within that range, we can handle 72" OD's down to 1" coreless rolls. We can convert paper grades from light-weight MG Kraft through heavy caliper Chipboard. When you need the highest quality slitting/rewinding available, look no further than Oren International.
Our Sheeting and Guillotine work is superior.
Our dual-knife precision sheeters have a maximum sheet size of 60" x 73". We have multiple backstands that can handle from 30# Newsprint through heavy Chipboard, and all grades in between. We have multiple guillotines to handle any type of custom work needed, from clipped corners to octagon sheets. Our micro-cut systems offer the most precise cutting available.
We have Custom Flexographic Printing.
Our state of the art flexographic printing press will handle up to 73 inch wide rolls, on a variety of cores. We offer multiple print stations for multi-color random print jobs, as well as 2-side printing for that extremely custom look. Our advanced video inspection system ensures the highest quality control standards available.
Polyethylene Coating is available for most substrates.
Oren International offers many different poly coatings, including LDPE, MDPE, HDPE and Poly Propylene. With coat weights from .34 to 2+ mil, we can satisfy all your barrier requirements. The coatings are available with a Gloss or Matte finish, and can be Corona Treated to accept all types of print. We are coating Heavy Linerboard grades, through light-weigh MG Kraft grades.
We make finished products that can be used for packaging and protection.
We manufacture spiral wound paper tubes from 1" ID all the way up to 6" ID. You can customize thickness from .055 up to .500 wall. We can supply these with a custom printed outer or inner ply. Our minimum order quantities are below industry standards, so we can handle your particular needs. We also produce Sewn Open Mouth multi-wall bags, and single ply Kraft tubing. These can be produced with or without a gusset, in a wide variety of sizes.
Oren International was founded with the concept of producing the highest quality paper products, at the most competitive pricing. Our wide array of in-house capabilities makes us your "go to" paper converter. When you work with Oren, you experience friendly, personal service and all the facts and best options available. We strive to make everything as effortless as possible on your end, and proudly develop lasting relationships with our customers.
Reach out to our team, we would love to hear from you.