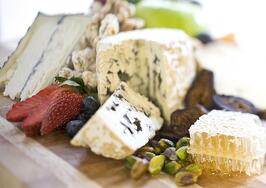 Freezer paper is a polyethylene coated paper with many uses. At Oren International, we offer Sentry Brand freezer papers, which are specially crafted to conform to the shape of the food item being wrapped, while the poly coating zips moisture in to prevent freezer burn. Freezer paper is often used in delis, restaurants and grocery stores as a quick-serve sheet to wrap sandwiches, deli meats and cheeses.
Many marketing savvy customers are taking advantage of custom printed freezer papers, using it as an opportunity to "brand their cheese" with logos and other company information.
Our Sentry brand custom printed cheese wrapping freezer paper:
Looks great when printed with your custom logo or design.
Maintains the proper level of humidity to preserve freshness.
Adds a professional, creative touch to your presentation.
Is available in white or brown sheets or rolls.
Comes in a variety of sizes and quantities.
We print on one-ply, polyethylene-coated paper, offering a stronger, more adaptable substrate than the two-ply cheese papers that are imported from overseas.
Creates the ideal environment for storing all types of cheese.
Is printed in Pensacola, Florida on FDA-approved direct-contact base stocks
Is your company taking full advantage of branding opportunities? Contact Oren, and let's make it happen!
Standard grades available are:
• Sentry Shield Economy – 35/5#
• Sentry IceGuard Standard – 40/5#
• Sentry TopGuard Premium – 47/7#
• Natural Freezer Paper – 35/5#, 40/5#