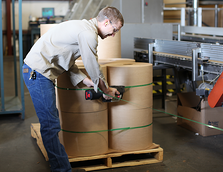 Here is another use for the kraft paper that we (and you) can't get enough of…Newspaper companies around the nation are using 40-pound natural kraft paper to wrap newspaper bundles to protect the bottom copy from dirt and damage.
How it Works
The kraft paper is used in automatic baling machines at the newspaper printing facility. The baling machines automatically wrap kraft paper around the newspaper bundles as they come out of the counter-stacker.
Once the process is complete, the printer delivers each kraft paper protected bundle of newspapers to the carrier. The carrier removes the kraft paper and strapping, places the newspaper in a plastic bag and then delivers to the doorsteps of subscribers.
Getting Creative
Becoming more prevalent is the practice of printing the kraft paper with custom colors or stripes to indicate the specific usage for that specific bundle.
For example, in the Miami area, companies are using it not just to protect their newspapers, but also to designate newspapers for different areas in the city. Since Miami has a large Spanish speaking population, it is important that the papers printed in Spanish get delivered to the right neighborhoods, so certain newspaper bundles will receive color coded kraft paper. This increases the ease and accuracy of distribution of certain papers to the right neighborhoods.
In other large cities such as Chicago and Atlanta, the color-coded kraft paper serves as identification for different newspaper editions needing to be separated and distributed according to region-specific local advertising, neighborhood news, different languages and more.
At Oren International, we offer custom converting for your natural kraft paper bottom wrap from 11 inches to 16 inches in width, and 18-24 inches diameter and everything in between. We are able to serve any newspaper conforming to whatever their requirements may be. We look forward to help making your newspaper distribution process easier and more efficient!