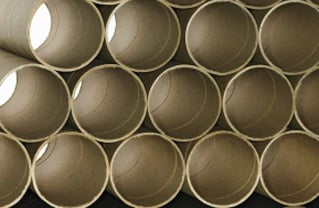 At Oren International we are intent on offering you the best, most innovative ways to get your name out there. So we are thrilled to now provide our clients the option of 3 color printed cores stock and oriented tube stock.
Modernizing Tube Core
It's an exciting new take on a very traditional product in our industry. We can now add your three-color logo using the latest flexographic printing technology, transforming the typical plain brown or white tube cores into a place for branding. With new and improved video inspection, registrations are tight and the look is crisp, detailed and professional.
Why Upgrade?
Many clients (and their customers) are already taking full advantage of the marketing opportunities that come with having their three-color logo printed right on their core stock products. Logo promotion is a simple and cost effective way to give your company great exposure, right in the hands of your audience, increasing awareness of your product and further establishing your brand identity in the marketplace.
Are you doing everything you can to ensure your company brand is a household name? At Oren International we want to make this happen for you--and your customers! Contact us today to find out about custom three-color printed core stock.