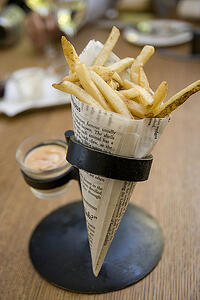 It goes by many names - deli wrap, sandwich wrap or dry wax paper, but all these terms evoke the image of that lightweight sheet cradling your corned beef sandwich just so as it arrives at your table in the restaurant.
Savvy business owners take it a step further, putting their name behind (or wrapped around) their product. Customized printing on your sandwich wrap is a great, cost-effective way to highlight your unique brand, while your products are right in the hands of consumers.
At Oren, we actually use a paper that's either polycoated on one side or a butcher paper which enables us to offer easy customization options and printing up to 3 colors on attractive white or natural paper.
Save Money
You can actually save money by buying ONE high quality, custom printed paper for most uses, as opposed to buying several different styles of paper in a range of sizes. You may have a variety of needs, but now you can utilize one paper for multiple uses:
Tray liners
Basket liners
Sandwich wrap
French fry cones
Regardless of intended use, instead of buying several sizes of rolls and sheets you can standardize into one "Oren wrap" and reduce your inventory and save money. With the added savings, consider custom printing the paper to include your restaurant's logo, tagline, website or even menu.
Oren's custom deli wrap offers a universal solution for all of your sandwich wrapping and food service paper needs. Find out more about how our paper converting company can improve your business.