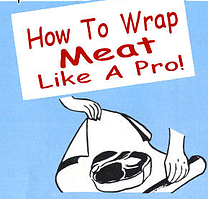 For many Americans, hunting season is just a few weeks away. If this happens to be your favorite time of year, then you need to begin considering how you will store and most effectively preserve the meat that you and your family don't consume within the first 48 hours after processing.
2 Storage Methods to Rule Out
Electric vacuum sealer: Pricey, tools required, unreliable/inconsistent results. Takes several tries to get a tight seal.
Zip-lock freezer bags: Even using straws to suck out the air, the wrap inevitably becomes loose in the freezer
Freezer Paper is a Win
Freezer paper helps to seal in the juices of meat and prevent color loss and freezer burn. It is easy to use, easy to write on, and affordable.
Premium Paper Pays Off
So, you're using freezer paper, but did you know the quality of freezer paper that deer processors and butchers use helps preserve the meat longer? Using premium paper will extend freshness about three months longer than standard grade freezer paper, which preserves meat for 6-9 months. Imagine year round venison (or whatever you choose)!
Preserve Your Meat Properly
For greatest freshness, wrap the meat tightly in moisture-proof premium freezer paper, overlapping the edges and pushing out air bubbles out as much as possible. Seal the freezer paper with freezer tape, ensuring all edges are completely sealed to prevent freezer burn. Write the date of processing on the paper and note the specific cut of meat in each package. Some hunters even jot down details of the event to remind them of the day the meat was, well, "acquired". Try to freeze meat in meal size quantities and by type of cut. Store the packets in the freezer at a 0 degrees F in a single layer. Freeze no more than 4 pounds per cubic foot of freezer space within a 24-hour period.
At Oren, we are proud to carry Sentry brand freezer papers, which are the most economical way to store meats, fish and poultry in the freezer for extended periods of time. The paper is specially crafted to conform to the shape of the food item being wrapped, while the poly coating zips moisture in to prevent freezer burn.
We also offer custom printed camo freezer paper to specifically accommodate hunters and processers. For information about our freezer paper, give us a shout. We're always happy to help!