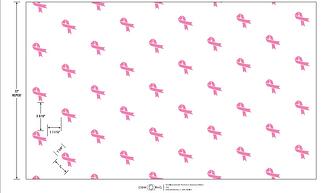 With Breast Cancer Awareness Month only weeks away, now is the time to begin preparing to show your business's support in October.
Because butcher paper is a staple item for food baskets, sandwich wraps or tabletops, it presents a great opportunity for showing your support for breast cancer awareness with your customers. Now through September, we will print the iconic breast cancer awareness pink ribbon symbol on your butcher paper— at no extra charge.
Here are some other great ways that businesses in the restaurant and food are showing their support of breast cancer awareness month:
Restaurant Chains for the Cure:
East Coast Wings & Grill offers pink tortilla chips to customers, donating a percentage of the chips sold during the month of October to Susan G. Komen for the Cure. Since 2001, Panera Bread has participated by featuring pink bagels to raise funds for a breast cancer cure. Hungry Howie's has also made a statement during Breast Cancer Awareness Month, providing pink pizza boxes to customers. Take note from these national brands and show your support this October.
Think pink:
Looking for more ways to promote Breast Cancer Awareness Month at your deli, butcher shop, grocery store or restaurant? From providing your staff with pink ribbons to wear to encouraging customers to wear something pink during October, you can keep the awareness level high. Offering pink napkins or pink take-out bags could be another simple way to help your business promote awareness.
Before October rolls around, consider the ways your restaurant or deli will support Breast Cancer Awareness Month this year. For your next butcher paper order, you can choose from pink ribbons alone or pink ribbons in combination with your logo or other company branding (for as little as $2/roll), added to an 18 or 36-inch butcher paper roll.
Please contact us for a sample of the breast cancer awareness butcher paper and to find out how to add the breast cancer ribbon logo to your order.