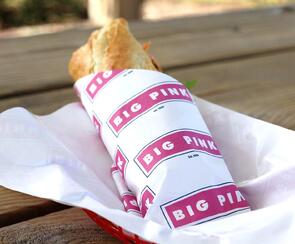 From wrapping meat to sandwiches, butcher paper serves a purpose for an array of food service businesses. Although standard butcher paper is often white or brown, there are many options for dressing up this valuable paper product. When you consider the marketing benefits of custom butcher paper, it's easy to see why your brand name should be standing out on your next order. (hint: it's less than a penny to wrap a footlong sandwich in personalized butcher paper!)
If you've made the decision to switch to custom branded butcher paper, you may be weighing the costs. At Oren, we make it easy and affordable for you to order your butcher paper in the color, design or logo of your choice.
The numbers
Many businesses order butcher paper by the roll. A roll of 18-inch butcher paper is 1,000 feet long. What you may not know is that it only costs $6 more per roll to have the paper custom printed with a logo or other branding message. So, it costs a restaurant less than a penny more to wrap each 12-inch sandwich in custom branded butcher paper, versus plain. Not only does custom paper improve the look of your products, it's a really inexpensive way to increase branding and marketing.
The value
For such a small cost increase (less than 1 cent per sandwich!), the value of custom butcher paper is priceless. Adding your brand's logo or other message to butcher paper gives your business has a new marketing opportunity on sandwich wrap, deli paper and tray liner. The best part about customizing your butcher paper, is that it's all in the hands of your customers, visible to others, and leaves a lasting impression over plain paper, all for less than 1 cent per sandwich or foot of branded paper.
If you are interested in your custom paper options, contact us today to learn more about our paper converting company or to place an order.