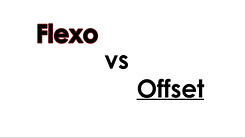 Every printing job requires a different set of needs. Black and white newspapers and colorful flashy signs don't use the same printing process, and it's important to know why. At Oren, we use several printing processes for different types of materials. Two of the most popular printing processes are flexographic and offset printing. Here are some helpful ways to distinguish which printing process will be used for your next order.
Flexographic printing
Flexographic printing, or flexography, is a type of printing process that uses a flexible relief plate. This type of printing is mostly used for non-porous materials like food service paper, plastic, foil, brown paper, and packaging materials.
Flexographic printing is unique because it adapts well to different materials and can use a wider range of inks, like water based rather than oil based inks. Because the this type of printing holds up and is adaptable, it is used for flexible plastics, retail bags, wallpaper and beverage cartons.
In addition, flexographic printing usually uses low viscosity inks to allow faster drying time and speedier production for lower costs.
Offset printing
Offset printing is one of the most common styles of printing where an ink image is transferred from a plate to a rubber blanket and finally to a printing surface. This is why it is considered "offset", because the image does not go directly to the paper from the plates like other printing processes.
Offset printing is economical and commonly used for high volume printing like newspapers, magazines, brochures, stationery and books.
At Oren, we use different printing techniques to provide our customers with the best results on a range of materials from food service paper to industrial paper. Contact us today to discuss printing options for your next order.