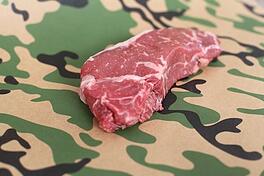 With hunting season in full swing, many hunters are accumulating meat from different excursions and will continue to in the following months. Freezer paper is a great way to store a wide variety of meat during hunting season. Freezer paper comes in different grades and sizes to fit your storage needs and can be written on to record the date and any other details identifying what's inside the package.
It's created to preserve meat for long periods of time and prevent against freezer burn or spoilage. We now offer custom camo printed freezer paper for those celebrating hunting season.
Have You Decided on Camo Paper Yet?
To carry out hunting season using camo freezer paper, now is the time to place your order. Although camo paper is a great way to store and preserve different types of meat for up to 12 months, its uses go beyond the freezer.
Some hunters are using camo printed paper as literal camouflage to wrap around their hunting stand. The options for ways to use camo paper are endless, as hunters can use it while hunting to remain unseen and after to store their meat year-round.
As we welcome Thanksgiving, a holiday focused on one of the most popular game birds, consider the possibilities of camo freezer paper for your meat this hunting season. For more information about your custom printed paper options, contact us today to find out how we can help you through hunting season with camo freezer paper.