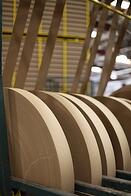 Recently, Oren International worked with a large, independent tube and core manufacturer in the Southeast to improve and simplify their printing and production process. Here's a look at how we turned their messy problem into a simple and cost-effective solution.
A messy problem
Oren's Director of Sales and Marketing took a tour through the tube and core company, noticing several ways production could be easier and more efficient. He noticed the company was printing a stripe down the middle of their bleached Kraft paper in line.
This caused the quality of the print to be less than desirable and often messy. Excess ink spots ended up on the cores as well as the floor. The company was having to inventory more ink than they actually needed.
At Oren, we know that in-line printing while manufacturing cores is not always the best option because it can take longer and is prone to print quality issues. Instead, it's a much better choice to have tube and core paper printed by a machine separately and then set up for production.
A streamlined solution
After reviewing their manufacturing process, we knew we could save the company money and greatly increase the quality of the print. Since then, we have printed five colors on tube and core paper for the company on our flexo press that is designed to print higher quality at faster speeds than typical inline printers.
Our experience with custom printing and working with independent to integrated tube and core companies led us to offer them a better solution. By purchasing paper from Oren instead of buying their own and printing in house, they saved money and had their paper slit the way they needed for manufacturing.
Here's an overview of the benefits the company experienced:
We brought their ink purchases and clean up down to zero
Reduced machine downtime
Decreased set up/clean up time by two hours a day
Increased production time by 20%
Reduced printed paper waste by 15%
Saved $150/ton on printed paper
Above all, we added ease by saving time and production costs. Are you a tube and core manufacturer? Custom printing/slitting your tube and core paper components exactly the way you need them will save you time and money. Find out how much you could be saving!