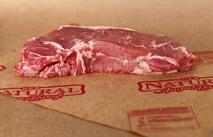 We often talk about creative ways to use butcher paper. Because of its versatility, butcher paper is often used in the food service industry as a sandwich or meat wrap, tray liner and tabletop cover.
At Oren International, one question we hear a lot is, "What's the minimum for my butcher paper order?" We know this is an important question, so we're happy to answer it. Take a look at how to determine the minimum for your next butcher paper order:
Is your order custom printed?
Whether you're using butcher paper for sandwich or meat wrap or for tabletop covers, your butcher paper can be custom printed to display your logo, artwork or another creative design. If you choose to place a custom printed butcher paper order, there is no minimum for your order. But, the more you order, the lower the price for custom rolls or sheets.
Not custom printed?
Not a problem. If you're in the market for white or pink butcher paper, your cost will primarily depend on your location. While there can be requirements for ordering plain butcher paper, the more rolls you order, the less expensive the total cost. And remember, if we can't directly supply what you're looking for, we will refer you to one of our reliable distributers who can meet your order needs.
From butcher paper to Kraft paper to tube and core components, we provide our customers in a variety of industries with the most comprehensive paper products. Learn more about all of our butcher paper options.