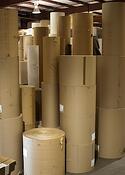 As a paper converting company specializing in slitting, sheeting, flexographic printing, coating, laminating and custom printing, everything we do involves paper. It's our passion to exceed our client's expectations with regard to quality. But, we can't convert paper without great quality paper to start with.
That's why we wanted to create a list of the top five paper mills in the country who deliver us the most consitent and highest quality paper that we rely on and transform into something else. A paper mill is the facility where wood pulp, and recycled fiber is transformed into paper. Here's a look at a few of the top paper mills in the country:
International Paper is one of the largest American pulp and paper companies in the world. It has around 61,500 employees, and is headquartered in Memphis, Tennessee
Georgia-Pacific is an American pulp and paper company based in Atlanta, Georgia, and is one of the world's leading manufacturers and distributors of tissue, pulp and paper.
Graphic Packaging is one the world's largest producers of folding cartons and a global leader in coated, recycled boxboard and specialty bag packaging.
4. Rock-Tenn
Rock-Tenn is one of North America's leading manufacturers of corrugated and consumer packaging. Based in Norcross, Ga., the company operates manufacturing facilities throughout the United States, Canada, Mexico, Chile, Argentina and China with its 26,000 employees.
5. KapStone
KapStone Paper and Packaging is an American pulp and paper company made up of about 4,500 employees and is based in Northbrook, IL.
At Oren International, we take care of all of your paper converting needs. From custom printing to exact paper sizes for food service paper or industrial paper, we've got you covered. Get in touch with us to find out what all we can do for you.