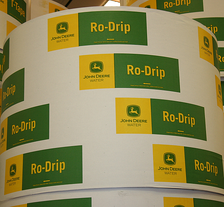 Most companies would agree that boosting their brand visibility is a good thing. Although there are many different ways to market your business, sometimes the most compelling methods are the most simple. Getting your name out to your customers can be as easy as working with what you already have. Do you often wrap or package your products with paper? Custom printed Linerboard for industrial use, wrapping or packaging is one more way to boost your brand.
Love your linerboard

Because linerboard is heavier than Kraft paper, it is manufactured for the purpose of making corrugated cartons or boxes, for floor covering, wrapping pallets, interleaving and slip sheets, as well as a protective over wrap when shipping products. That presents lots of differnt places to boost your brand by adding your logo to your linerboard!
Although regular recycled linerboard, virgin natural linerboard and white top linerboard all serve as great ways to wrap or package materials, custom printing can bring your linerboard to the next level. White top linerboard in particular creates a great foundation for custom printing logos.
Spring Special! Making the switch to custom printing

Ready to renovate your linerboard? From now until April 31, 2014 we're happy to offer our spring special to new and existing clients. You can take advantage of no charge for your first printing plate for any print orders over 1,000 pounds. Your custom printed paper order can be for finished rolls or sheets. If Oren International currently supplies your printed material, this is a great time to renew your artwork or design, free of charge. Simply mention this spring special when you contact us to place your order. Don't miss out on this printing plate offer and truly impress your customers this season.
Have more questions about our custom printing services? We're here to help you with all of your paper converting needs.