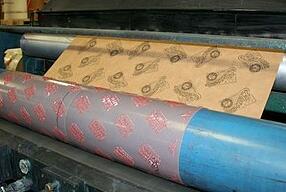 Restaurant owners rely on certain products to keep their business running smoothly. Paper is one product that has long been essential to the restaurant industry in many different ways from menus to food wrap or tabletop covers. Whether taking orders to presenting food, paper plays a huge role in the running and success of your restaurant.
Paper has your back
When it comes to wrapping your sandwiches or lining baskets and trays, you can count on butcher paper to get the job done. On that note, why wrap your sandwiches in plain butcher paper? You can enhance your butcher paper by having it custom printed with your logo or a design. The same goes for your tabletops. Save money on linens and bring your tabletops to life with custom printed butcher paper. You can delight your customers with artwork, recipes, fun facts and more using paper to cover your tabletops.
One of our recent custom printing jobs for The Pharmacy Burger Parlor & Beer Garden in Nashville, TN is shown above. Now this restaurant serving up Nashville's #1 burger can delight customers with burgers wrapped in custom printed paper with their logo.
As Corporate News Editor at the Wall Street Journal, Tom Gara put it, "You may read books on a Kindle, but you'll never wrap a burger in an app." We couldn't agree more. The need for food service paper is undeniable. And why not dress up that paper with custom printed logo or artwork? This way you using paper you need while promoting your brand.
Now is the time to custom print
From now until April 31, 2014 we're offering our spring special to new and existing clients. Take advantage of no charge for your first printing plate for any print orders over 1,000 pounds. Your custom printed paper order can be for finished rolls or sheets. If Oren International currently supplies your printed material, this is a great time to update your artwork or design, free of charge. Don't miss out on this spring printing plate offer and truly impress your customers this season. Ready to place your order? Give us a call.