When was t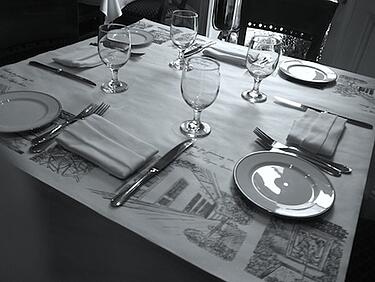 he last time you had a memorable dining experience? When you think about this restaurant, what makes it so significant? Despite what we initially think, it isn't just the food that makes an impact. When we recall a positive dining experience to our friends, every detail matters. We recount the impeccable service, the menu, the meal, the ambiance and what made the restaurant stand out from others. If you notice these unique attributes when you dine out, chances are your customers do too. If you're ready to make your restaurant even more memorable, custom printed butcher or Kraft paper as tabletop covers can easily boost your branding efforts.
Treat your customers
Although our white or natural 100% FDA-approved butcher paper is great for wrapping meat and Kraft paper can be used for shipping or for packaging material, their uses go far beyond traditional roles.
Custom printed butcher paper and Kraft paper can be used creatively at a variety of eating establishments, from food trucks to fine dining restaurants. From prints of artistic drawings to your restaurant logo and more, custom butcher or kraft paper will make a lasting impact on diners.
Take the restaurant Bayona in New Orleans, for example. This 200 year-old cottage in the historic French Quarter is depicted in beautiful illustrations of the historic building that houses the restaurant right on their butcher paper tabletop covers. The covers have become so popular that their customers have even asked to purchase the paper as artwork.
Is custom branded paper is right for your tabletops?
Easy and inexpensive branding
Creative. Say goodbye to plain white tabletops
Cost effective vs. linen
Maintenance-free
Enhances and protects table
Clean and efficient
At Oren, we can custom print your tabletop covers on rolls, and we offer four standard sizes that fit most restaurant tables for a cleaner look and less waste. Our four standard cuts are 30 x 30, 30 x 48, 36 x 36 and 30 x 64.
Spring printing special!
Making the switch to custom printed tabletop covers? From now until April 31, 2014 we're happy to offer our spring special to new and existing clients. You can take advantage of no charge for your first printing plate for any print orders over 1,000 pounds. Your custom printed paper order can be for finished rolls or sheets. If Oren International currently supplies your printed paper, this is a great time to renew your artwork or design, free of charge. Simply mention this spring special when you contact us to place your order.
So, are your tabletops truly standing out to your customers? Our paper converting company is here to help you improve your restaurant branding with custom paper.