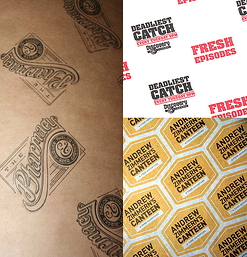 Marketing agencies in the restaurant industry know that the right type of visual branding can improve an eatery's recognition. Because restaurant marketing agencies strive to increase clients' sales and devoted customers, it's a frequent mission to look for new ways to promote restaurants and food trucks. It may seem difficult to find creative ways to enhance a restaurant's brand, but the solution is actually very simple. Custom printing food service paper like sandwich wrap, basket and tray liners and tabletop covers can boost a restaurant's aesthetics and promote brand recognition, often in the hands of customers.

Promote innovatively

At Oren International, we offer only 100% FDA approved butcher and Kraft paper to the food service industry. Not only do we specialize in paper converting and custom cut sheets of paper, but we also partner with marketing agencies and develop custom paper goods for promotions or regular use in-house. Does your restaurant client have a great logo or a fun story to tell? Maybe you have hand-drawn or historical artwork of the building or an innovative idea for a menu. Whatever your need or creative idea, we can custom print food service paper with sketches, logos, images or offers.
The proof is in the paper
Marketing agencies like the ones for Nashville's The Pharmacy Beer Parlor & Beer Garden, TLC's Deadliest Catch show or Andrew Zimmern's AZ Canteen food truck have found that making a small change to an already existing aspect of the restaurant makes a big difference. By transitioning from plain food service paper to custom branded butcher paper or freezer paper, the restaurants now have their logo and other branding to enhance the presentation of their food in baskets or trays. Imagine the impact of literally holding a brand in your hands. What better way for a marketing agency to build brand recognition than by changing up their clients' food service paper?
Do you work in the restaurant branding field? We'd love to help you promote your restaurants brand with custom printed paper. Check out these other examples of ways we have helped restaurant marketers with brand recognition and promotion.