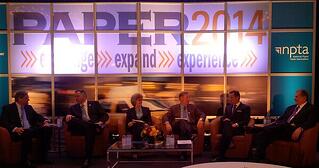 The PPI Pulp and Paper Week conference has been an important resource for the pulp and paper industry for more than 30 years, helping people stay on top of key industry news, market trends. It's an event that brings together the many sides of the paper industry, hence the slogan, "where the industry meets." Businesses often rely on Paper Week for their face to face meetings to discuss graphic papers, containerboard and packaging. At Oren International, we go way back with PPI Pulp and Paper Week. Eighteen years back, in fact.
Although our attendance at the event is nothing new, the information we gain and connections we make grow each year. This year's Paper2014 conference was held in New York and our paper converting company was pleased to form connections and meet prospects for new opportunities.
Major paper week highlights
While attending one-on-one appointments, we made new paper mill connections in order to expand products for both industrial and food service paper and met new contacts for exporting paper.
We were also excited to be introduced to a new source for lightweight papers. With this new connection, we now have an additional source for specialty lightweight papers that are grease proof, flame retardant and wet strength for food service and packaging purposes.
Another notable part of the conference was a presentation by Mr. Alex Sheen, an entrepreneur whose focus is centered on paper-based items. Mr. Sheen shared his project, Because I Said I Would, a social movement and nonprofit organization dedicated to bettering humanity through the power of a promise. To encourage positive change and acts of kindness, they send paper "promise cards" to anywhere in the world at no cost. Because I Said I Would has sent over 150,000 promise cards to over 48 different countries.
Aside from paper talk, we indulged in authentic Italian food and saw the sights in the city. With another successful Paper Week event under our belt, we look forward to what Paper2015 has in store.
From food service to paper for industrial use, find out more about how our paper converting company can help your business.