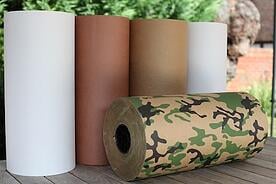 Paper is paper, right? Not necessarily. Although butcher paper and freezer paper can be used for similar purposes in the food service industry, that doesn't make them the same thing. Custom paper products not only help improve a restaurant's image, but they also help staff to prepare and serve food more quickly and easily. It's essential to choose paper products carefully and stock your restaurant with the items that will keep your business running smoothly and efficiently.
Butcher paper and freezer paper are the most commonly used food service papers and have some shared properties, but there are key differences. Both of these products have important applications in restaurants, but if you know the difference, you may be able to use them to your advantage.
What is the difference?
Butcher paper
Butcher paper is inexpensive and comes in different widths. You can get butcher paper in long rolls, or you can have it cut to specific sheet sizes. You can use it to line food baskets and wrap sandwiches. You can also use butcher paper in lieu of linens by topping your tables with it. When it comes to contact with food, butcher paper works best with dry foods like turkey sandwiches and pita sandwiches. Juicier and greasier foods should be wrapped in a different material, which leads us to our next type of paper.
Freezer paper
Freezer paper starts out like butcher paper, simple uncoated paper on rolls, but then it is poly coated on one side. This poly coating provides a moisture and vapor barrier that is perfect for containing liquids and grease. They're also great for lining baskets that will hold French fries and chips. Delis often use freezer paper for wrapping meat and fish as well. Freezer paper keeps your products fresh and contains the mess.
Mineral freezer film
We're happy to now offer a new sustainably engineered freezer film, to the food service paper industry. BPA-free, FDA Complaint Mineral freezer film can be used to wrap and preserve meat longer at butcher shops, supermarkets and commercial meat processors. The value of mineral paper doesn't stop there. There are more wraps per roll of material compared to traditional wrap, (standard rollls are 18" X 2000'). Calcium carbonate and a proprietary blend of polymers create a brand new type of meat wrap that locks out 30% less condensation, resisting freezer burn and increasing freezer shelf life for up to twelve months.
At Oren International, we can help you figure out exactly what you need and then customize your order specifically for your business. We can also custom print your logo or artwork on butcher paper to aid with your marketing efforts. Contact us to learn more.