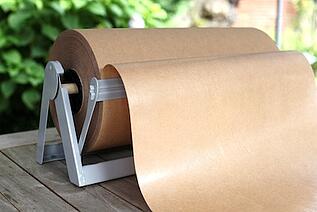 Freezer paper, also known as locker paper, is primarily used in the food service industry as an economical way to preserve meat and fish for long periods of time. Freezer paper is poly-coated on one side to provide moisture and vapor barrier that helps contain liquid and grease without it soaking through. At Oren International, we offer FDA approved Sentry brand freezer paper to take care of your restaurant or grocery store's paper needs. Though traditional freezer paper is typically white, we also offer natural freezer paper for a more rustic look.
Fashion meets function at Oren International
Because freezer paper is often used in delis, restaurants and grocery stores as a quick-serve sheet to wrap sandwiches, deli meats and cheeses or preserve meat, the look of the paper you use matters. With the growing trend toward sustainable, natural and organic products in the food service industry, we offer natural freezer paper.
Natural freezer paper is made with brown or unbleached paper, yet delivers the same functionality you expect from traditional freezer paper. Large grocery store chains such as Whole Foods and Fresh Market are using natural freezer paper for meat displays and sandwich wraps, which compliments the look and style of their decor and healthy food options.
Want to know more?
Here are a few more features of natural freezer paper that could benefit your restaurant, grocery store or deli.
FDA-Approved for direct food contact
100% chlorine-free, unbleached natural brown Kraft paper
Polyethylene coated to resist freezer burn by locking moisture out
Why stop there? We also offer custom printed freezer paper featuring your logo, artwork or any other design on freezer paper for added branding. Natural freezer paper comes in economy and standard grades. Find out more about our food service paper and learn about our new BPA-free, FDA compliant mineral freezer film for longer storage ability, and greater moisture absorption.
Ready to place an order? Our paper converting company is here to answer your questions and help you find the best paper for your restaurant or grocery store.