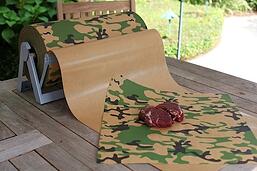 As hunters everywhere gear up for the start of hunting season, now is the time to prepare for it with the right tools. Beyond the equipment needed for the hunt, it's important to stock up on the necessary materials to preserve meat after the adventure. Using high quality freezer paper is the most economical way to store meat, game, fish and poultry in the freezer for extended periods of time. Freezer paper's poly coating keeps moisture inside to prevent freezer burn and conforms to the food item being wrapped.
Sought out by hunters and butchers, our specially printed camouflage freezer paper begins as brown kraft paper that is coated with polyethylene for moisture protection on one side and printed with a distinctive "camo" pattern on the other side.
Improve hunting season with camo freezer paper
Document the date, animal, location and any other important information directly on the wrapped meat. Using printed freezer paper can help you stay organized and distinguish the various "trophies" earned each hunting season.
Butcher shops, hunting retailers and processors can promote hunting season with camo paper as an alternative to standard white freezer paper.
Meat packing paper for hunters doesn't have to be bland. Presentation matters, and with camo printed freezer paper, you can offer a "gift wrapped" look when sharing/distributing meat among friends and family.
At Oren International, we offer FDA approved premium freezer paper for deer processors, butchers and hunters to preserve deer meat longer and ensure a freezer full of venison for up to a year.
Let camouflage printed freezer paper improve your hunting season by keeping you organized and preserving meat for up to 12 months. Ready to find out more? Give us a call today and get ready for hunting season!