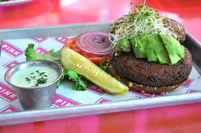 Restaurants, delis, butcher shops and grocery stores have historically used paper to wrap sandwiches, package cuts of meat, line baskets and trays, and cover tabletops. Because paper plays such an important role in the food service industry, it has evolved with style over time. Today, paper is custom printed to fit specific orders and helps add some color to food presentations. At Oren International, we offer only 100% FDA approved butcher and Kraft paper to the food service industry. Here are a few of the reasons we love custom food service paper.

It gives brands a place to shine
Custom printed food service paper like sandwich wrap and basket liners can boost brand recognition for restaurants and grocery stores. By printing a company's logo on food service paper, the company has one more avenue to promote its brand to customers dining in or taking out.
It spices up presentation
With up to three colors to add to your design, customers notice the difference when food is wrapped in quality, custom paper. Instead of standard white butcher paper, businesses can print a story, images of your business, hand-drawn artwork on custom butcher paper or freezer paper to make their presentation more eye-catching.
It's affordable
We're talking pennies. Many businesses order butcher paper by the roll. A roll of 18-inch butcher paper is 1,000 feet long. What you may not know is that it only costs $6 more per roll to have the paper custom printed with a logo or other branding message. So, it costs a restaurant less than a penny more to wrap each 12-inch sandwich in custom branded butcher paper, versus plain.
Is your restaurant, grocery store or deli looking for new and creative ways to promote your brand? When it comes to custom food service paper, we are your paper partner. Give us a call to learn more about what custom food service paper can do for you.