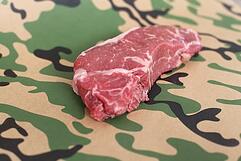 With hunting season only weeks away, dedicated hunters are prepping to make this their best hunting season yet. Whether you're new to the hunting world or a veteran, there are certain tools that every hunter can benefit from to improve their season. Get your weapons ready and find out these five ways to improve your hunting game.
1. Official guidelines – Before hunting season, make sure your required hunting education courses and hunting licenses are completed and up-to-date. Rules like wearing an outer garment at least 500 square inches of visible hunter orange above the waist when hunting can keep you safe and free from fines.
2. GPS – Take some time to study a map of your hunting locations. Knowing the area's geography before you begin hunting can help lead you to where game animals are most likely to be found and give you time to strategize a plan. For more realistic preparation, scout out the area yourself ahead of time.
3. The gym – Or the treadmill or the great outdoors. However you like to exercise, now is the time to stay active. Hunting excursions are often day events, so prepare your body now to cover a lot of ground in one day.
4. The shooting range – Whether you plan to use a modern firearm, muzzleloader, shotgun or bow and arrow, practice is key to successful hunting. Take time now to practice your aim and technique.
5. Paper and pencil – Though it is exciting to go on the first hunt of the season, you won't make it too far without being organized. Create a simple checklist with everything you will need for an outing to make sure you won't be without essential equipment when you need it.
6. Quality meat wrap - After all of the preparation and work put into hunting season, make sure you protect your investment by properly storing your meat. The best way to keep your meat fresh for a long period of time is by wrapping it in poly coated freezer paper to help seal in juices, conform to the meat and prevent color loss and freezer burn. Freezer paper is also easy to write on to distinguish different meats. Meat processers can make meat really stand out with our camo freezer paper featuring a camouflage printed desgn.
Are you a food service distributor or hunter ready to keep your meat as fresh as possible this hunting season? Contact us to learn more about our camo freezer paper and other paper solutions for your hunting needs.