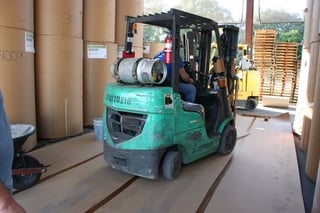 If you're in the market for heavy-duty paper to cover surfaces during a construction or renovation project, you may not even realize you have options. But when the time comes to select paper to protect the surfaces around your home or construction site, it's important to note that there are a variety of materials you can choose, and that different products are suited for certain scenarios.
In this post we will look at floor board and floor paper, and some of the preferred uses for each to help you decide which is best for your project.
Protecting from damage
No matter what your project, or where it's taking place, you will need to cover surfaces to protect them from damage, moisture and any related wear and tear that could occur. From vehicle traffic to foot traffic, to water, mud, paint, and other construction materials, you need to make sure any and all areas that could be damaged during your project are covered.
This includes floors, baseboards, walls, and — depending on the project — even ceilings. To choose the best covering for your project, you'll want to consider the foundation of the area or areas you're covering. Will you be covering concrete, wood, stone, tile, linoleum, composite materials, finished, or unfinished drywall?
It's important to remember that even new construction sites can benefit from protection. When it comes to areas of exposed concrete and unfinished drywall, it's important to ensure protection from unwanted moisture setting in that can literally put a damper on your project.
Both floor paper and floor board can protect from moisture, as well as chemicals, to avoid staining your surfaces. Now let's look at the specs and differences of each:
Floor board is a heavier weight paper, and offers the highest level of protection in terms of durability and waterproofing your project site. It is often better suited than floor paper for larger industrial projects, or projects where a site will be under construction or renovation for an extended period of time. Oren International offers floor board in roll sizes of 38 inches wide by 100 feet.
No matter the duration of your project, this is the type of stock you'll want to consider for remodeling large sites where floors and other surfaces need protection from things like forklifts and other construction vehicles, as well large, heavy tools that may come into contact with and potentially cause damage.
Heavy-duty floorboard can also be a good option in non-industrial settings for protecting high-quality floors and other surfaces that could sustain damage or nics from any dropped tools.
Home renovation heaven
If you've ever watched Home Town, Fixer Upper, Renovation Realities or any of the other dozens of remodeling shows on HGTV, you've probably wondered how they appear to cover and uncover floors and other surfaces seamlessly for each of their projects.
Most often, these projects are using floor paper. And if you're looking to do a lighter-duty project such as a home renovation or remodel, floor board's lighter-weight cousin, floor paper, is generally a great option.
Oren offers floor paper in roll sizes of 36 inches by 144 feet.
Floor paper is perfect for shorter-term projects where you want to be able to cover and uncover surfaces more easily and quickly. Like heavier floor board, floor paper offers protection from water and other damage.
The right choice
The main things to consider when selecting floor board or floor paper are: the type of surfaces you're covering, what materials you'll be using in your renovation and the length/duration of the project.
No matter which stock you choose for your project, you'll want to make sure you install it properly with tape that will not damage finished surfaces. Both floor board and floor paper can be rolled up and stored for reuse.
And no matter which you choose, you can rest assured that it will save you money by protecting you from incidental damage from a construction project.
If you'd like more information on paper for protecting surfaces and how to order it, contact us at Oren International today.